Versawall blocks are a popular retaining wall option created by Adbri Masonry. These blocks feature a unique interlocking design that is perfect for DIY projects.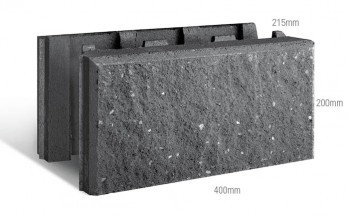 Building strong retaining walls with Versawall
Retaining sloped land is the most common application for Versawall blocks. Using retaining wall blocks to level out slopes helps better utilise yards. The benefit of 800mm height without concrete footings, mortar, glue or additional engineering makes using Versawall to reclaim land easier.
In additional to building straight walls and 90 degree corners, Versawall can be used to create walls with gentle and gradual curves. To create curves, use a mallet to knock off the back right hand "wing" of the block on the first course, then the back left wing on the next course.
Versawall can be used to construct pure vertical retaining walls to 1400mm in height on a concrete levelling pad. The ability to construct vertical walls in excess of 1 metre high means Versawall can be used in various project applications, such as sub divisions, terraced walls and engineered and heavy commercial retaining applications. Versawall can also be designed to accomodate a fence sitting atop of the retaining wall by embedding PVC post holes within the concrete.
Versawall blocks can be used to create steps in your project, ensuring seamless integration between your retaining wall and steps. Use blocks to create the steps and use the capping unit for the step tread.
Step-by-step guide to build Versawall retaining wall
Step 1: Marking out
Using marking paint and a string line, locate and mark out the line of your wall.
Step 2: Excavation
Remove turf and soil for the trench of your retaining wall to a depth of approximately 175mm (if using a flexible base). Make the trench 400mm wide to allow you to fit a small plate compactor into the trench to compact the roadbase footing.
Always call Dial Before You Dig on 1100 before excavating.
Step 3: Preparing the footing
There are 3 footing types:
Compacted Road Base
Concrete levelling Pad
This project step by step guide shows wall construction using a compacted road base and sand and cement footing.
With your trench excavated, bring in the roadbase and use a plate compactor to compact to a depth of 100mm (don't forget hearing protection). Then, using a damp sand and cement mix, screed a level bedding sand layer no more than 25mm thick. Check your screed for level lengthways along the trench and then front to back.
Step 4: Laying the first course
Before you start laying blocks you will need to determine your walls starting point. Then set up a string line using two stakes to mark the line where you will lay the first course of blocks.
Using your string line as a guide gently place the blocks onto the prepared base. Check that the block is level side to side and front to back and then continue laying blocks ensuring the fronts of blocks are equidistant from the string line and the wall height is the same along the length of the wall.
Step 5: Infill and backfill with aggregate
It's vital that you infill the cores in each block with free draining aggregate such as blue metal.
You must also back fill with the same aggregate behind your wall to form a drainage column.
Step 6: Drainage agpipe
It's imperative your wall does not have water pressure massing behind it. Install a drainage
agpipe at the bottom of your wall to divert water away from the back of your wall.
Water must not be directed into your neighbours property.
Step 7: Laying additional courses
Continue laying blocks using the locating lugs on top of the course below to stack blocks. Your wall must use a stretcher bond pattern so the blocks are offset and do not sit directly on top of the one below.
To ensure your blocks sit evenly, in between each course use a brush to remove debris from the tops of the blocks, this will help ensure your next course sits level. With each course you build, remember to use free draining aggregate to infill the blocks and backfill behind the wall.
Step 8: Apply capping units
To finish your project, you will need to fix down capping units. Use a landscape grade adhesive to run a continuous line of glue along the front and back of the top course of blocks and then firmly place down caps.
Finishing tip
To neatly finish a Versawall® corner, the capping units will need to be 'mitred' which creates
the best finished visual for your wall.
To achieve a perfect mitre, a brick saw / wet saw is ideal. In the best case scenario, you can ask your landscape supply yard or a tradie mate to assist. If you need to hire a wet saw, you must also have hearing, eye and dust protection, and be comfortable and confident operating machinery!