Versasmooth Retaining Wall Blocks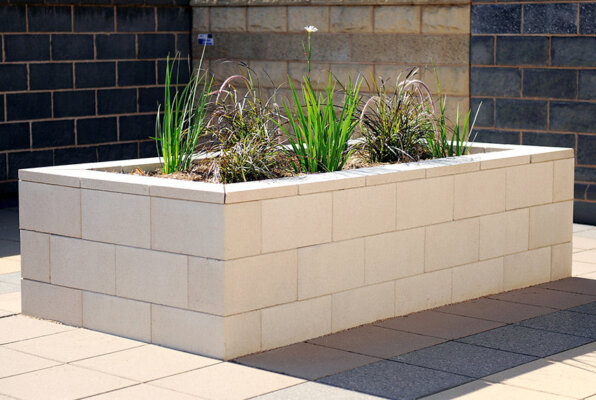 Get an authentic smooth-surfaced retaining wall without the need for rendering with Versasmooth Surface Blocks from BuildMart Australia. Made from high-quality Adbri Masonry, these blocks are perfect for shorter structural walls and functions, including garden steps, engineered walls and landscaped walls. So if you're looking for a professional finish that will last, Versasmooth Surface Blocks are the ideal choice.
With four contemporary colour options that offer classiness and subtleness, these smooth surface blocks offer a minimalist design at an affordable price. Contact Build Mart to get a free quote for your project or visit our showroom in Glen Waverley to see the blocks and other retaining wall products in person.
---
About Versasmooth™
Achieve the look of a rendered block wall without the render! These coloured concrete building blocks from Adbri Masonry feature a smooth, flat surface texture.
What's Good About Versasmooth
Budget friendly with smooth, render-look surface texture
Specialty corner units and cap form a complete DIY system
Space saving, vertical construction
Great for garden and retaining walls, corners, stairs and seating walls
Common Applications of Versasmooth
Versasmooth is best for garden steps, gentle curves, engineered walls, vertical retaining walls, residential landscaped walls and even fire pits when blocks are a minimum of 500mm from flame or a steel insert is used.
Garden steps
Engineered walls
Vertical retaining walls
Residential landscaped walls
Notes about Natural Colour Variation
Whilst these swatches provide a good indication of Versasmooth's colour, you should always sight product samples before use. Due to natural variations in aggregates, colours may vary.
Block Size
Length: 400mm Width: 190mm Height: 200mm
Maximum Unreinforced Height
600mm + Cap (3 blocks) or up to 1200mm with no fines concrete
Looking for similar products
If you are looking for a large split face texture, browse the
Versawall
retaining wall brick. For a natural aggregate stone surface texture, check out the
Versastone
range.